Hardback $24.99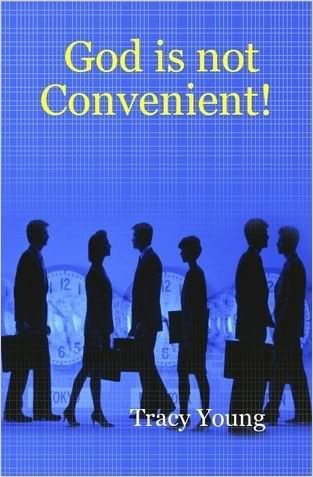 Available in Paperback $14.99

Also available at:
Amazon.com

The most retweeted silly status updates for the past few months from @tracyyoungtv:
RETWEETING PIRATES IN THE REDLIGHT DISTRICT
(C)2009 by Tracy Young http://www.tracyyoung.tv
"Tracy Young, a man enjoying his life, now barely alive. We can rebuild him. We have the technology. We have the capability to perform a lot of surgeries and to pray for him. We can make him better than he was before. Better, stronger, faster. We will spend over six million dollars on him over eight long months.

During those eight months, his faith will be tested many times. His Church will gather together with Earth-shaking power and prayers. His friends will bond together during these visits in the Valley of the Shadow of Death."
I do not mind going through the Death Valleys, but I would like to spend more time resting peacefully next to the still waters. I understand that time is needed there to learn, grow and to shape my destiny. I just want some vacation time in the green pastures for a little while longer. I promise that I will go back into the dark valley and have my dinner that was prepared for me in front of my enemies. I do not want my food to become cold. No one wants a cold, prepared dinner, especially before enemies. Why, they would laugh and point their callous fingers at me.
There were times in a hospital bed when I would become scared. However, I would not fear the evil that was attacking my body. God comforted me! Goodness and mercy would follow me all the days of my life! I was going to dwell in the house of the LORD Forever! (Taken from Psalm 23)
Real miracles happen instantly. I have prayed over people and saw them healed immediately. I have watched prayer warriors speaking to various illnesses or ailments and viewed the instant miracles in their lives. So, why did it take me eight months, multiple life-saving surgeries and countless hours in therapy relearning how to stand, walk and talk?
Jesus and His disciples would pray and the miracles would just happen.
"And Jesus went about all Galilee, teaching in their synagogues, preaching the gospel of the kingdom, and healing all kinds of sickness and all kinds of disease among the people." (Matthew 4:22-24 NKJV)
I had prayer teams all across America praying powerful prayers over me, and they believed with their whole heart that I would just jump out of bed and do a jig. However, I remained in the valley without dancing.
Even though a miracle might happen all of a sudden, 'healings' are a process. Healings will take time, maybe even years. Even now, my body is still healing, but I am a living miracle. I had numerous problems in my body. I had most of my vital organs shut down and I was too weak for the surgeons to do everything that they needed to do in any one session.
Slowly, several miracles started to happen. My organs slowly started working again, one by one. It was a miracle each time that an organ decided to perform their job. Each surgery was life-threatening and a long shot, but a miracle happened each time. The healing process may have taken the long way around in the dark valley, but I WAS healed! If your healing is taking awhile for you, please don't despair. Keep your faith. Remember, even faith as small as a mustard seed will comfort you during your walk.
During my hospital stay, I still prayed for others, including healings. My pain did not stop me. I sowed my healing into the healings of others. I comforted many that came to comfort me in my bed. You WILL reap what you sow into others. With the same measure you use on others, it will be used with the same amount back to you. So, start praying for others as well as for yourself!
"Give, and it will be given to you. A good measure, pressed down, shaken together and running over, will be poured into your lap. For with the measure you use, it will be measured to you." (Luke 6:38 NIV)
Many people, who had their own difficulties with their health, would pass along powerful wisdom to me. They told me their own testimonies with healing and miracles. Some were in the valley for a short time, some longer, and a few were still in it.
"All praise to the God and Father of our Master, Jesus the Messiah! Father of all mercy! God of all healing counsel! He comes alongside us when we go through hard times, and before you know it, he brings us alongside someone else who is going through hard times so that we can be there for that person just as God was there for us. We have plenty of hard times that come from following the Messiah, but no more so than the good times of his healing comfort—we get a full measure of that, too." (2 Corinthians 1:2-4 MSG)
They all told me to read all of the healing scriptures and to recite it out loud with authority. Since I could not talk with tubes in my mouth, a friend set up a CD player that played healing scriptures on a continuous loop. It played while I was in a coma and all of the way through my physical therapy. Those scriptures were engrained into my head and into my spirit. I believed them. Even if I were to have died, I would have breathed my last breath still believing in those scriptures. Keep praying for yourself and for others.
"Stretch out your hand with healing power; may miraculous signs and wonders be done through the name of your holy servant Jesus." (Acts 4:30 NLT)
Yes, we all have to go through those dark valleys, but your Shepherd will restore your soul, comfort you, lead you, anoint you with oil and give you all that you need so that your cup runs over.
"Surely goodness and mercy shall follow me
All the days of my life;
And I will dwell in the house of the LORD
Forever." (Psalm 23:6 NKJV)
—-
FORGET THE VALLEYS, I WANT GREEN PASTURES
(C) 2009 by Tracy Young http://www.tracyyoung.tv
I did NOT hear the following Christian jagon in the hospital from my friends & family:
"Don't worry about your pain, God has a plan."
"God will make a way out of no way."
"When God puts you on hold, don't hang up."
"When God closes a door, he will open a window."
"IF it is Your will, God let Tracy live."
INSTEAD: They prayed everyday for eight long, long, long months that I would not just live, but live life abundantly, WALK again, TALK again, and serve God again. They demanded repayment for everything that was stolen from me… and they rejoiced when I WALKED out of the hospital.
They didn't give me jargon, they gave bold, life-changing, prayer-believing declarations. Get some good God-loving friends into YOUR life, and when it gets dark, God AND your friends will never leave your side and will believe the best will come!
When you are in the dark valleys, Christian Jargon does not comfort those that hurt. They irritate and do more harm. Even if the jargon is correct, those going through a dark valley want you more than your empty words. Instead of meaningless jargon, pray life into the valley. Your actions mean more at that time than your words.
Don't go into a hospital room if you do not have faith. Pray that God will give you faith first. Pray boldly even if it is to their dying breath.
Give yourself and leave the jargon at church… or even better, leave it entirely.
My first appearance after my eight-month long hospital stay was at my local church. Several church leaders were concerned for me that day. They were afraid that I was going get rushed upon by several parishioners wanting to say hello.
I had bodyguards assigned to protect me from any unruly church members who may want to hug me a little too long. Leaders were afraid of my frail state and that my immunities were still weak. It was suggested to me to reach my arm out to try to prevent them from hugging. That did not work. I would put my hand out to shake it with someone and then endure that awkward moment where they would still hug me with my hand out. The outstretched hand would then have to give a friendly pat on the back or that person would never let me go. I was accosted by several good-intentioned people who would suffocate me in their armpits and then beat upon my back. Even those who would shake my hands, would still hug me at the same time.
My bodyguards just watched beside me. It's a good thing they were there; otherwise I might have been attacked by another smiling lady shouting, "Hallelujah! You are a miracle, do you know that?" "Yes, I do." "NO! You are a miracle!" "Yes, I am." "NO! Do you really, really know that?" "Yes, I do." This interchange would go on until another lady would grab me.
One of those smiling people was an actor that I had worked with before. He was directing a new movie and wanted me to do a cameo in it. It would be my first film since I got out of the hospital. Even though I still needed a cane to walk, I was determined to do the scene without it.
A month later came and my scene was ready to shoot. This was an independent production and you could tell by the fact that the director's wife arrived to pick me up. I must say that I have never had the director or the director's wife pick me up for a movie shoot before.  I felt special. I rode along with the small children of the director to the airport, where our scene was to be shot.
I walked into the area in the busy airport where the actors were to meet. When you work on major films, you can easily recognize the main actors; however on an independent film, you do not know who anybody is. The other actors see this frail guy walking up to them with a cane and they are wondering if I am going to ask for a handout. Instead, I tried to break the ice with some levity. "Where's my trailer?" I shouted out forcefully. Apparently, I did not put enough sarcasm into my voice as they took me seriously. I am an actor after all, so I made it seem real. They did not know my sense of humor, so immediately I made everyone feel uncomfortable.
We sat in the airport chairs for our makeup. I watched her put everyone's makeup on, except for mine. I never did get any makeup. I had done films before without any makeup, so I figured they wanted me "AS IS." They did not want to cover up the natural beauty, I tried to convince myself. I went over my three lines with the two page portion of the script that they allowed me to have. I was to portray a Guardian Angel, but I had no idea what the film was about. I did know my three lines. There are no small parts, just small actors… however; EVERY actor still knows how many lines they have. It is part of our breeding.
In my scene, I was to run across the airport. I still needed a cane to get by, but I had practiced all day without it. The director told me to just do it with the cane. That is how I became a Guardian Angel with a cane. Don't all Angels have them?
All of the airport authorities knew we were there and they also knew that we had two actors who were portraying police officers during a fight scene. Even though their costumes did not fit properly, they were still asked questions by airport travelers. They had to shoot the film around real people, as they were not allowed to shut the entire airport down.
This scene has the main actor acting peculiarly and then is confronted by an actor portraying a police officer, who draws his gun. Another officer comes into the scene as backup, with his gun drawn. They shout for the main actor to get down on the ground. During the first take, a REAL police officer pulled HIS gun and told EVERYONE to get down on the ground. He apparently was not at the meeting and did not comprehend all the cameras, lights, boom mikes, etc. He was VERY close to shooting the actors! All cameras were rolling and I hope that footage will make the DVD release.
I spent eight months in a hospital… released a few weeks… and then almost killed while acting! During all of the remaining takes, the director would shout out in a sing-song fashion, "Standby for the ACTORS who are ACTING in this scene…. ACTING! PRETEND! Don't shoot us!"
I asked for hazard pay. I can't fall to the ground! I would never get back up! I may have been mistaken for someone who is threatening the officer by still standing… and I had a big, black stick in my hands! "Hey officer! Let me limp over to you very slowly and timidly hit you with my cane!" "Freeze, sucka!"
I had two scenes that day, but I later found out that the actors that I did the first scene in were all wearing the wrong clothes from a different scene.  That is one scene that will not make the film, as they only had the Airport permit for that day. We will see if the mystery of the cane-walking Angel makes the final cut of the film or not. Either way, it was fun to get back on the horse again after lying in a bed for most of the year. Independent Films are usually more interesting and fun to work on than the mainstream ones… I tried to convince myself.
It's true, though… if you do not get shot in the process!
===
ACTING IS DANGEROUS TO YOUR HEALTH
(C) 2009 by Tracy Young http://www.tracyyoung.tv
At this point, I had been in the hospital for five months. I did not know that there would be three more to go. Briefly, I was at a Rehab hospital but now I was back at the original place of my ordeal.
I would be in surgery the next day… again. Instead of my usual room in the ICU, I was on the opposite wall of the hospital. They were glass walls and if I would squint, I could look past the nurse's station and see the ICU. I could see my regular room. That room where so many of my friends would come to pray for me, to talk to me, and to give me encouragement. That was the room where I did not know what God had in mind for me. That was the room where I did not know if I were to live or die. That was the room where God comforted me through the pain.
During that time, people had put up blank poster boards on the walls. Friends who visited would leave various Scriptures and quotations on them. The posters were right across from my bed at my eye line and I would meditate on those words of wisdom. I did not recognize all of the people on those posters. Some came down to visit even though I did not remember them. Some said that they had never visited anyone in a hospital before but something drew them to my room. Many times, I would catch nurses reading those posters with different reactions. I was not supposed to live. Anyone with a little medical knowledge knew that the odds were against me. Those nurses remembered the words on my wall.
My friend Joey wrote "Warrior" on my wall. There I was, unable to move, unable to talk, unable to eat nor able to lift my hands. "Warrior," I would say to myself over and over again. I had no strength in my body, but I knew that I was a warrior, ready for a fight. That fight would be for my life.
As I lay in my room, I was hungry. My stomach was talking angrily with me. I would not be able to eat anything until after the surgery. I would not be able to actually eat for another two months, enduring hospital milkshakes through a hole in my stomach.
I should be asleep for my big day in the operating room. Pain raced through my body. I felt around for the tube that contained the nurse's call button. It had fallen from my bed and was out of reach. I could not talk or make any sounds. My thoughts turned to prayer, but I had no words to pray at this time. Usually during these times, I would just pray in tongues inside of my head.
However, the pain took my energy away from me. I wondered if I would ever get out of the hospital. I wondered if I would ever speak again. I thought about those nice long walks at the Guadalupe River. I wondered if I would ever write again. I wondered if I would ever pray for people again. My eyes started to tear up and I started to sob. My body started shaking from the emotions. The room became blurry to my eyes as they overflowed. I had been strong when the nurses said that I may not survive. I was a rock during those first few surgeries. I was a warrior when I started to drift away on that operating table. Except here, I started to fall apart. I was tired.
I was tired of all those hourly shots to test my sugar levels. I was tired of those three in the morning blood withdrawals in my arm. I was tired of not being able to communicate with anyone around me. I was tired of the constant pain. It was exhausting for me.
I thought about all of those people who prayed for me the last few months. They would even come down to the hospital waiting room when they were not allowed in. I wondered if I would have done the same thing for them. Honestly, I did not think that I would have.
I started to thank God for those people. Everyone that came to mind would have a short prayer lifted up for them. I asked God to return the blessings to them. People's faces kept popping in my head and each time that it would, I would pray for them. I prayed for those people who gave blood in my name. I prayed for those people who took care of my house while I was in the hospital. I sang praises about those who took care of my finances and legal documents. I shouted for joy thinking about those who gave out email updates on my progress. I cheered when I thought about people all across the country that was praying for me. Other churches in other states were praying for me. How is that normal?
Even though I remained in that hospital bed with pain running through my body, I felt calmness in my room. I could feel the Spirit of God comforting me in that room. My eyes still remained blurry, but I felt my lips taking the shape of a smile. Smiling before a surgery? Had I lost my mind? Was I sleep-depraved?
A nurse entered my room and turned on a light. It must be time for my three o'clock blood-letting. "Sir, I need to see your arm." I raised my right arm up towards her. She took it and started to rub alcohol over it. "Mr. Young, are you crying? Are you in pain? Do you want me to give you something, Mr. Young?"
I could barely talk but I gave it a try. I whispered, "Can I pray for you?"
She chuckled, "Pray for ME? Why, I should be the one praying for you!"
"Please?" I asked.
She looked puzzled and stopped rubbing my arm. "Okay, go ahead."
"Lord, thank you for this wonderful lady. Thank you for giving her a great gift and talent. Thank You for bringing her into my life and helping me right at this time. I know that You have picked out blessed people to take care of me and it is no accident that she is here with me today. So, bless her and give her unwarranted favor in her career and shower her with love from her friends and family. I pray in Jesus' name. Amen."
"Uh, Amen," she said. "Well, I just have one thing to say to that."
I asked, "What's that?"
"Hold your arm steady." She then poked my arm with a needle and gathered up blood.
"Ouch," I exclaimed. She had taken me by surprise.
"All done," she said as she put a bandage on my arm. "See you in two hours. Get some sleep." She turned out the light and walked out of my room.
Somehow, I thought it would have turned out differently. I rubbed my eyes to dry them. I stared at the blank walls.
My posters did not make this current trip. I tried to remember some of the quotations. "Warrior," I said to myself. "Thank you, Lord."
At the glass doorway, the nurse appeared. "Uh… well… uh, thanks." She turned and walked away from sight.
I smiled. "Thank you, Lord. Thank you."
I covered myself up with a sheet.
"This warrior is going to be okay." I went to sleep.
Dear Amy,
Your father is a great man of God. Your father is a great doctor. Your father is a great father. Your father is a great man.
I went through Bell's palsy, knee problems and other various ailments with your father. I camped in his waiting room at least three years of my life and spent thousands of dollars in co-pays. I may have paid for your education, but I am not sure.
At a pivotal point in my life, your father took on the assignment to take control of my medical needs. I went to him when I did not know what was wrong with me. I hate going to doctors but I was talked into it by one of my friends… and the severe pain in my stomach. It was decided that I was to go through a series of off-site tests right away. I was scheduled for three tests that day but I only made the first one.
During the cat-scan, the assistants determined that it was an emergency and called your father right away. Your father told them to immediately call the EMS ambulance and to send me to the hospital. For an unknown reason, they wanted to just send for a non-emergency transport that might take an hour to get to me.
I am not sure what was said, but I could hear your father yelling at them over the phone to get the EMS right away. They then decided to argue with your father about which hospital to send me to. Of course, your father won this pointless argument. I was transported straight from the cat-scan machine onto the gurney and sent straight to the hospital that your father wanted.
In a panic, I started making frantic calls to anyone that I could think of. Karen was the only one to call me back while I was still in the ambulance. Karen kept repeating, "Tell them that I am your sister!" The last thing that I remember that day was going through the two double doors of the hospital. I made it just in time, due to the swiftness of the EMS crew and the quick thinking of your dad.
During my long eight-month stay, your father was there almost every day. He kept me updated and prayed for me. He assembled a top-notch team of doctors and approved of every step that was taken. During a dark time, he sang songs about healing to me. I looked forward to his cheerful smile each day.
His prayers were heart-felt and real. He was honest and told me the facts. However, he let me know that not all facts are the truth. All of my organs shut down, but that did not stop your father from praying for me. Pastor Rick has stated that he only wants true-believers at his death bed, believing that he will be healed. Even to his last breath he wants them believing. I was surrounded by people that believed. Joey, Amber, Karen, Autumn, Chris Nault and many, many others. Your dad believed in my healing.
Suddenly, my organs came back online, one by one. Your dad still prayed. I started to get strength into my body and your dad still prayed. I started to walk and your dad still prayed.
I was released and your dad rejoiced.
Your father took a tough assignment.
I am grateful that he did.
–Grateful and alive,
Tracy
God bless.
Miracles?  I did not believe in miracles.  Every time that I would hear someone boasting about their miracles, I used to cringe a little bit.  I did not think that they were outright deceitful, but I did think that they just did not know any better.  Maybe they thought that life would be easier to get through if they just believed in miracles. Maybe they just needed the hope to carry on.
I thought miracles only happened when you no longer had hope.  Maybe they happened when you just barely had hope.  I did not believe in miracles, but I now know for a fact that they are real.  I spent eight months in the hospital with barely any hope left.  I did not have any energy to keep the hope alive.  I did not have the faith to continue for the entire eight months.  However, I had just enough faith to get through the next day.  Sometimes, I just had enough faith to get through the next hour.  The Bible told me, "My grace is sufficient for you."  During the harshest of times, I kept repeating to myself, "This too will pass."  Many times, I just had enough faith to just get through the current procedure.  Before I knew it, I was walking out of the hospital.
 No matter what I was going through, a Scripture verse was there to comfort me and guide me.  When I no longer had words to pray, the Holy Spirit was there to pray the perfect prayer.  The Holy Spirit's prayer would be joined by the prayers of my family and my church family's prayer.  During each surgery, members of my church would gather in the waiting room, just to pray for me.   I felt those prayers.
People asked me if I was getting closer to God while I was laying there in my hospital bed.  I had several IV's and tubes in every place that they could connect them.  I had large tubes in my mouth, which prevented me from praying out loud.  However, I prayed every chance that I could in my mind.  I would even sing songs and pray in tongues in my mind.  It was just one long eight-month prayer.   I rarely had any opening or closing remarks.  It was just a continual prayer with many hours of just laying in the presence of God.  Do not wait until you are in a hospital bed to lie in the presence of God.  Do it every chance that you can. "Blessed are those who wait upon the Lord." (Isaiah 30:18 NIV)
This was not easy for me.  There was many times where I would just cry out to the Lord.  However, I learned long ago that God never answers the questions, "Why me?  Why now?  How long?"  There were better questions to ask God.  "Are You still going to use me?  How can I still do Your will?" 
"I waited patiently for the Lord;
He turned to me and heard my cry.
He lifted me out of the slimy pit,
out of the mud and mire;
He set my feet on a rock
and gave me a firm place to stand.
He put a new song in my mouth,
a hymn of praise to our God.
Many will see and fear
and put their trust in the Lord."  (Psalm 40:1-3 NIV)
Even though my nurses and aides saw some of my lowest moments, they still knew that my life was very different.  They noticed the presence of God in my room, even though some of them did not even know what that was.  They noticed that I still had hope, even though at the time I only had a small percentage of living.
One day, there were several people from my church in my hospital room.  My surgeon gallantly came into my room and interrupted our conversation.  He introduced himself and explained what he was going to do in my surgery.  He was blunt about the dim odds of living through the procedure.  Suddenly he took my hands and bowed his head.  He said, "Let us pray.  Lord, I ask that you bless this surgery.  I humble myself before you and ask that you guide my hands and bless them as I work on this child of God."  He boldly prayed filled with faith and assurances that God would give mercy to me and let me live.  The room was stunned, as they did not even know that my surgeon was a bold man of God.  After his Spirit-filled close, he suddenly left as quickly as he came in.  The room was filled with the Spirit of God.
I had two friends of mine honestly talk about what was going to happen to me.  We agreed that I needed a Power of Attorney to talk for me when I could not talk.  They left to go get the legal paperwork.  As soon as I signed my legal voice over to them, the stretcher arrived to pick me up for surgery.  Pain filled my body as they lifted me unto the stretcher.  My vital stats started to go south.  As they ran the stretcher down the hallways and through elevators, I saw the ceiling lights swinging by me, as though they were animated.
Once we entered the operating room, I noticed that my two friends came in without any masks, gloves or surgery jackets.  I still had my mind working and realized that they should not have been allowed to be in the operating room.   Unknown to me, the nurse let them in to "say their final goodbyes."  One of my friends interrupted her and said that they would not accept that.  They believed that God would work a miracle in me and they will stand in agreement with the surgeon.  The nurse told them that I only had less than a fifty-fifty chance of survival.  My friend told her to stop talking like that, as I might still be able to hear them.  That was the last thing that I heard before the medications took over.
Up until this point, I was actually ready to go to Heaven.  I already had God's peace upon me.  I still had things that I wanted to do for God, but I realized that I will ALWAYS have something left to do.  I knew what Paul was talking about when he said, "To live is Christ, but to die is gain." (Philippians 1:21 NIV)
After the operation, the surgeon went to the waiting room and explained the facts to those who came to pray for me.  Afterwards, he prayed with them and then disappeared.
Hope came in the form of a God-fearing surgeon.  Hope came in the form of several God fearing, praying and believing brothers and sisters in Christ. Previously, all of my organs had shut down.  Miraculously, they slowly started working again on their own.  I had several doctors of all faiths and religions.  Some of them did not believe in any kind of god.  At a meeting together, they did acknowledge that "something" had happened to me that they did not understand.  Some of these doctors did not believe in miracles, but every one of them admitted that something special happened to me.  Just maybe, they admitted, that it came from a higher power that they did not understand.  A seed of hope was put into their hearts.  Hope was alive and growing in them.  Even in the darkest of hours, God still allowed my life to be used as a shining light to others.
 I do believe in miracles.  My body is a living, breathing testimony of God's grace, which is sufficient for me.  Will you allow God to work a miracle in your life?
====
Hopeful Miracles by Tracy Young
(C) 2009 http://www.tracyyoung.tv